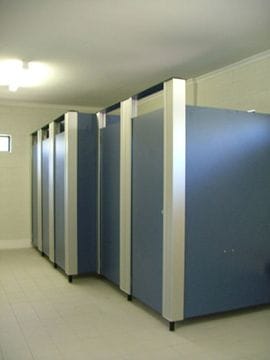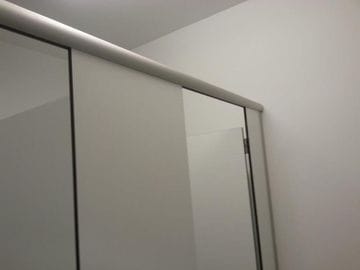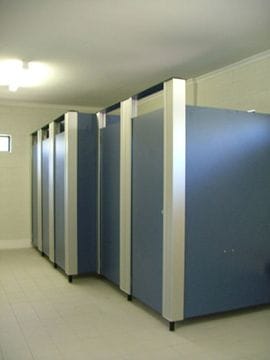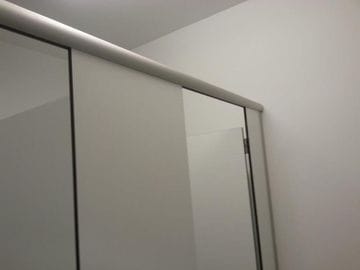 Shower Partitions
Options are available to suit all types of budgets and building specifications in either 10mm or 13mm. Onsite measure and installation, flat-pack or ex-factory. Doors opening inwards or outwards and self-closing or self-opening as preferred. All shower partitions come complete with privacy locks, 3x lift-off hinges per door, coat hooks, door stops, adjustable partition legs and aluminium trims. Matching compact laminate shower seating also available in sizes as preferred.
The DCS Toilet and Shower Partitioning System has been designed by Architects and is specified across a range of building specifications for its durability, longevity and vandal resistant properties. This system has been constructed from compact laminate and a patented aluminium extrusion system and is available in either 10mm or 13mm thickness. Exposed fastenings and see through gaps in doors have been eliminated ensuring the system is ideally suited for correctional facilities, schools, universities, hospitals, shopping centres, Government and Council facilities and commercial offices or wherever high resistance, hygiene and privacy is needed.
The system is durable, extremely tough and robust and is the premier system for use in Australia for all high use impact areas as specified by the Department of Education, Training and Employment.
The DCS system can be modular in design or custom made to suit particular size requirements. DCS can provide replacement doors to existing cubicles where damage has occurred from resultant wear and tear or vandalism where a less suitable product has been used.
Our onsite installation service can help with onsite inspection, site measure and installation techniques that will allow you to install the system yourself or provide you with installation solutions.
Please contact our friendly team today for further information.